There is great hiking in the Mountains of Hakone.
Hakone is a protected National Park and is full of wonderful trails to explore and enjoy. One of the most accessible and most enjoyable routes is Mt. Kintoki in the upper highlands of Hakone in Sengokuhara. Hiking Mt. Kintoki is popular because of the amazing views of Mt. Fuji, ease of the climb, and friendly atmosphere at the top of the mountain.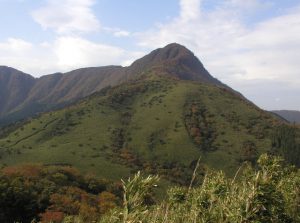 Hiking Mt. Kintoki takes only a little more than 1 hour to the top and is a great day trip that has some of the most impressive views of Mt. Fuji. It is a place with a close connection to one of Japan`s most famous folktales, The Legend of Kintaro. The trail is well marked and starts just behind the local Kintoki Shrine. The trail is not difficult, but it is a climb up a mountain so wear comfortable shoes and be aware of the weather forecast.
Getting to the Mt. Kintoki trailhead is relatively easy and takes about 30 minutes by bus. From Hakone Yumoto, bus is the most convenient way to get there. You can take the "L" Hakone Tozan Bus headed for Gotenba all the way to "Kintoki Yama Iriguchi" bus stop. Or take the "T" bus headed for Togendai, getting off at Sengokuhara and changing to the "M / G or S" bus headed for Gotemba. Get off the bus at the "Kintoki Yama Iriguchi" bus stop. Walk up to the shrine and there will be well labeled maps and signs for the trail.
Along the path are sites associated with the legend of Kintaro. Kintaro is one of Japan`s most famous children`s tales known throughout Japan. He is said to have come from the mountains of the area. The legend is of a child who grew up in the mountains with amazing strength and compassion. He would play with the animals of the forest and display his strength wrestling bears and running through the forest with deer. He would grow up to become a famous samurai who lived a dedicated and honorable life of service. The shrine is dedicated to his spirit and there will be large boulders along the path tied closely to stories of his childhood.
At the top of the peak is the Kintoki Chaya. A Chaya is a rest house often selling light snacks or drinks and offering a place to relax during your hike. This is one of the most interesting places in Hakone. The Kintoki Chaya offers light meals to hikers making it to the peak while looking out onto Fuji. The Chaya is run by a delightful and wonderful lady who has been climbing up to the Chaya everyday for decades. She has become a popular figure as she greats all the hikers who make it up the mountain.