To most Japanese people staying at a ryokan is the destination itself. People spend time relaxing in the hot spring, eating the evening meals, or just relaxing with friends and family. There are some types who want to get out to see and experience more. The Yumoto area around Hotel Okada has some wonderful spots and activities to enrich your time in Japan.
Outdoor Hot spring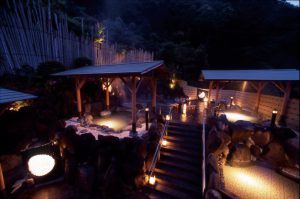 Hakone is famous for the many different hot springs in the area. An unforgettable experience is sitting under the stars in the cool evening air enjoying the Japanese onsen. Take the time after your meal to dip into the relaxing waters of one of Hotel Okada`s outdoor hot springs surrounded by nature and with the open air above. Hotel Okada has a number of outdoor bathing options to enjoy in the evening. Guests also have access to the Yu no Sato Hot Spring facilities until 11:00 pm. These hot springs are a short walk from the main hotel and built on the side of a hill surrounded by the lush nature of Hakone. Enjoy one of the many different types of baths at your leisure under the stars.
Visit an Izakaya, a Japanese pub
Head down the Hakone Yumoto Station area to find some evening options for good food, some drinks, and to mingle with the locals. Many of the stores around the station cater to the tourists during the day selling snacks and souvenirs, but in the evening there are some great establishments to visit for a nice drink or food.
◆Highball and Flying Chicken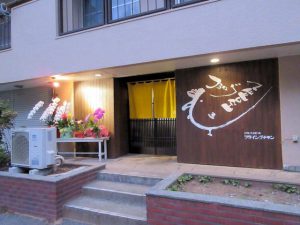 Photo Credit: Tabelog
The late night establishment features delicious fried chicken and highball drinks. The restaurant is popular with those getting off late night shifts and has a fun and energetic ambiance reflecting the young patrons visiting for a late night cap to a long day. Visit for some great local food and to get a taste of the local back alley dining fun.

【Information】
Highball and Flying Chicken
211 Yumoto, Hakone-machi, Ashigarashimo-gun, Kanagawa-ken 250-0311
18:00~AM03:00
【Directions】
15 minutes walk from Hakone Yumoto Station
10 minutes by taxi from Hotel Okada, the taxi fee about 1200 YEN.
(After 22:00, will have late night charge)
【Official website】
https://tabelog.com/en/kanagawa/A1410/A141001/14059709/
◆Suzuka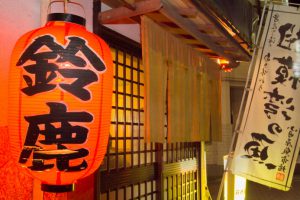 Photo Credit: Hakoneyumoto.com
A late night experience for local food, fresh fish, grilled meats, and a taste of the seasonal ingredients from around the area. This is a place is open until 11:00 pm and serves visitors and locals who are looking a place to unwind after work or a long day taking in the sites. The menu reflects the in season produce and there is an extensive drink menu that will give you chance to get a taste of the local vibes. Located just steps away from Hakone Yumoto Station on the back alley to the right following the road along the base of the train tracks.
【Information】
Suzuka
703-12 Yumoto Hakone Ashigarashimo-gun Kanagawa
17:00~23:00 (off on Wednesdays)
【Directions】
1 minutes walk from Hakone Yumoto Station
15 minutes walk from Hotel Okada

【Official website】
https://tabelog.com/en/kanagawa/A1410/A141001/14026460/

◆Kinosuke

Photo Credit: Kinosuke.co.jp
Kinosuke is open until 10:00 with last orders of their home grilled chicken and fish at 9:30 pm. This new addition to the night life in Hakone serving quality food in a relaxed Japanese environment. The restaurant is located up the street from Hakone Yumoto station and serves local sake and cold beer to compliment the extensive menu.
【Information】
Kinosuke
703-19, Yumoto, Hakone-machi Ashigarashimo-gun, Kanagawa, 250-0311
Weekday 11:30~14:30 / 17:30~22:00 (off on Wednesdays)
Weekend and holidays 11:30~22:00

【Directions】
2 minutes walk from Hakone Yumoto Station
15 minutes walk from Hotel Okada

【Official website】
https://kinosuke.co.jp/index-en.html

◆Pub Ochiai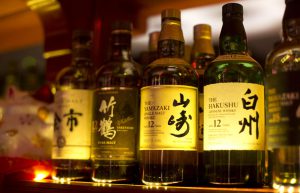 The dark lighting and wooden interiors give this place a warm whiskey bar atmosphere. There is a counter and some seats, but the main draw of this establishment is the wonderful well-dressed couple serving drinks. They seem to have been running this place for decades with the stories to tell and always meet new patrons with a welcoming smile smooth drinks. The pub is in a red brick building hidden behind the Hatsuhama Shinkan Soba store down the river from Hotel Okada.
【Information】
Pub Ochiai
474, Yumoto, Hakone-machi Ashigarashimo-gun, Kanagawa, 250-0311
off on Thursdays

【Directions】
5 minutes walk from Hakone Yumoto Station
10 minutes walk from Hotel Okada

【Official website】
http://www.hakoneyumoto.com/eat/61

Go for an evening stroll
Photo Credit: Twitter
The Sukumogawa river flows from the deep mountains of Hakone, passes in front of Hotel Okada and then to Hakone Yumoto Station. The evening hours are a chance to slowly enjoy the different lighting, ambiance, and atmosphere of the hot spring town. Walking along the river will take you past the beautiful architecture of the many hotels and ryokan lit up at night. With the relaxing sounds of the stream by your side
Enjoy the Entertainment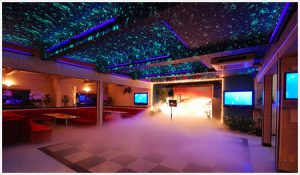 A visit to Japan requires some karaoke. There are private rooms for karaoke available for rental within Hotel Okada to staying guests. If you are feeling confident or want to show off those singing skills the Hotel Okada Karaoke Club is also open some nights. The kids may be happy with the game center that offers a range of enjoyable games until the early evening. There are seasonal events to enjoy as well
Experience the Geisha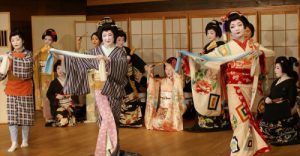 Photo Credit: Hakone.or.jp
Geisha were once found practicing their arts throughout Japan, but their numbers have declined and now there are few places like Hakone and Kyoto where you can enjoy the company of a geisha. Geisha in Hakone are an exciting opportunity to see, feel, and interact with a special part of Japanese culture and history. Contact the front desk to set up an evening, be aware that the price for the experience matches the special occasion.
Evening events around Hakone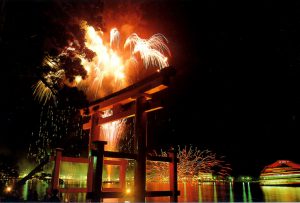 Photo Credit: Hakonenavi.jp
The following website which you can check the event around Hakone.
◆Hakone travel information
https://www.facebook.com/HakoneTravel/
◆Hakone useful information
http://www.hakonenavi.jp/english/traffic/
Summer is a time for fireworks, spring and fall for lit up blossoms or leaves, and winter for illumination.